Rosebud.ca
Discover Rosebud and its refreshing moments nestled in a beautiful river valley with plenty of comfortable accommodations.
As You Travel to Rosebud
FEATURES
Nearby Attractions
History and Roots
The Miracle Worker
Spring Opera House Show
By William Gibson
March 27 to May 16, 2015
Adult / Senior Tickets range from $65.10 to $77.70
The true story of Helen Keller and Annie Sullivan
Miracles really do happen!
Helen Keller is blind, deaf and mute. In a battle of wills, a young teacher fights to release the child from her dark, silent world. This true story captures the drama of Annie Sullivan's perseverance and her hard-won friendship with a little girl who no one could save.
Performances run Wednesday to Saturday.
Matinees: Meal seating 11:00 am to noon. Performance 1:30 pm
Evenings: Meal seating 5:30 to 6:30 pm. Performance 8:00 pm
at www.rosebudtheatre.com
Upcoming EVENTS
You are invited to…Rosebud Lions Brunch
SUNDAY April 19, 2015 Rosebud Community Hall
12:00-2:00pm Pancakes, sausages, fruit, hot and cold beverages
Lunch is free, sponsored by the Lions with all donations benefitting Royal Sproule
Rosebud School of the Arts - on the
BMO Studio Stage:
A MIDSUMMER NIGHT'S DREAM
By William Shakespeare
Adapted by David Snider & Kelsey Krogman
April 11 to May 2, 2015
Full of mischief, young love and a merry band of trades folk turned thespians, Rosebud School of the Arts presents a rollicking romp through a magical forest in one of Shakespeare's most popular and accessible plays.
read more...A Midsummer Night's Dream
Coming Soon:
WILDWOOD FIRE
Spring Studio Stage Show
May 6 to June 20
Listen as June Carter Cash sings her heart away about loving the Man in Black. More Information
All shows are at 5:00pm at the Studio Stage.
Rosebud Chamber Music Festival 2015
July 27 to August 2, 2015, come to Rosebud, the heart of the Badlands to experience great musical works performed by some of Canada´s most exciting chamber musicians. Come be carried away during one of the weeks concerts, or check out a workshop or the thrilling Reading Party.
Rosebud Presents
An ecletic collection of Artists on the Rosebud Stage. For tickets, call the Rosebud Theatre Box Office at 1-800-267-7553.
Cara Luft & J.D. Edwards
The Small Glories
April 26, 2015 4:00pm
Singer/Songwriters
With her guitar and clawhammer banjo, Cara brings superb musicianship, humourous anecdotes, and accomplished songwriting.Ticket price does not include a meal.
$27.50 Single Ticket
$23.00 Season Ticket Holders
Paul Young
October 4, 2015
An intimate afternoon with the author of The Shack
Spend an afternoon hearing from the author of the best-selling book, The Shack. A limited number of tickets are available for an exclusive pre-show meal with Paul.

$27.50 Single Ticket
$25.00 Group (20 or more)
$23.00 Season Ticket Holders
$100.00 Exclusive Meal with Mr. Young
John Wort Hannam
October 18, 2015
Rootsy Folk Musician
John is a powerful singer with rootsy, melodic songs that go straight to the heart. Ticket price does not include a meal. Wild Horse Jack's Bistro & Grill will be accepting reservations.
$27.50 Single Ticket
$23.00 Season Ticket Holders

Rosebud´s Maverick Rancher: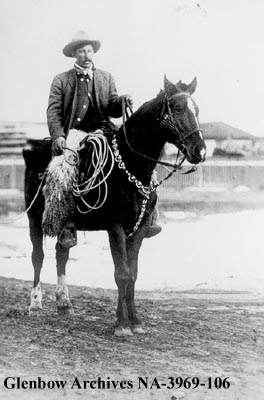 "Wild Horse Jack" Morton
(Local rancher and Stampede
chuckwagon legend)
Many is the story that could be told of this tall generous prankster.
In the News
The True Story of Helen Keller & Anne Sullivan
The Miracle Worker opens March 27 at Rosebud Theatre
Student Matinees available - $15.75 including a our and actor talkback. Meal options available. Call Melanie at 1-800-267-7553 or email groups@rosebudtheatre.com
Posted Dec 8, 2014
2015 Rosebud Theatre Season
The Miracle Worker by William Gibson (Spring Opera House starting March 27)
Wildwood Fire by Lauren DeGraaf and Kelsey Krogman (Spring BMO Studio Stage)
The Wizard of Oz by L. Frank Baum, adapted by John Kane (Summer Opera House)
The Last Train To Nibroc by Arlene Hutton (Summer BMO Studio Stage)
Mass Appeal by Bill C. Davis (Fall Opera House)
A Wind In The Willows Christmas in Rosebud, featuring the music of John Rutter´s Three Musical Fables
Posted August 18, 2014
Calgary Philanthropists Donate to Rosebud
Lois (Kenney) Haskayne and Dick Haskayne Donate $1 Million to Rural Alberta Performing Arts Centre
Posted June 15
Lewis & Royal release 20th Anniversary soundtrack for Chickens: The Barnyard Musical Comedy
20th Anniversary of Lucia Frangione's Chickens
Posted FEBRUARY 5, 2014
25 Most Innovative Organisations: Rosebud Theatre
Rosebud School of the Arts
2015 EDUCATION SERIES
Interested in bringing your students to Rosebud or bringing Rosebud artists to your classroom? Download our Education Series brochure to find out how!
At Rosebud Centre of the Arts, we believe an enriched arts curriculum can have a positive impact on a child's overall academic and long-term success.
We know that live theatre and theatre training can stimulate a student's imagination, discover hidden talents, and nurture creativity.
Storytelling Workout July 2-4. Ignite body, voice and imagination to brting true stories to life.
Filmmaking Intensive July 21-23. Get a taste of all elments of filommaking from pre-production to screening while creating a short film.
Art Intensive July 27-31. Hone your visual skills through a week of ahdnds-on studio training with professional artists.
Phtotography Boot Camp & Intensive
August 3-7. Learn phtogrpahy basic in the Bootcamp (Aug 3-4) then join the intesive (Aug 5-7) where you will deepen your skills in the pricturesque Rosebud landscape.
If you are an Educator and wish to be on our regular email list, please contact Shauna Murphy at 403-677-2350 or by email at shaunam@rosebudcentreofthearts.com
At the Akokiniskway Art Gallery
Local Artists - Tharrie Zietsman, Ed Anderson & Cassandra Torgerson
March 27 to May 16
Visit the Artists' Websites:
Community INFO
Jay Russel has a new website for his vintage bicycles http://rosebudvintagebicycles.weebly.com/
ROSEBUD RIVER DEVELOPMENTS
Do you want to buy or build a home or small business in the hamlet of Rosebud? Ask about single family-multi family, condominium and cooperative housing. Contact LaVerne Erickson at lavision@rosebud.ca or Jason Knibb at jknibb@telus.net
Do you have old glasses/hearing aids of any sort? Lions Recycle for Sight box is in
Rosebud Museum - drop off pre-show.
Rosebud Church
Sunday Schedule
Christian Education Classes for all ages 10:00 am
Worship Service: 11:00 am. Phone 403-677-2244
Tues: Women's Study & Prayer 9:30 am
Wed: Men's Gathering RCA Office 7:30 am
Congregational Prayer - church Tues. 7:00 pm