Rosebud.ca
Discover Rosebud and its refreshing moments nestled in a beautiful river valley with plenty of comfortable accommodations. On Facebook - check out "Rosebud & Area Events" for ideas to enrich your stay.
As You Travel to Rosebud
FEATURES
Nearby Attractions
History and Roots
WIND IN THE WILLOWS
CHRISTMAS Opera House Show
An enchanting evening of song and story, featuring John Rutter's Three Musical Fables.
Whimsically, Wonderfully Christmasy
 A wild and reckless car ride adventure ends on Christmas Eve, when Toad of Toad Hall arrives home just in time for Christmas Eve. The evening festivities take Badger, Ratty, Mole and their orchestra on a storytelling journey through fanciful tales of battles with reluctant dragons and of monks with their singing donkeys. Festive fun for the whole family!
 Performances run Wednesday to Saturday.
Matinees: Meal seating 11:00 am to noon. Performance 1:30 pm
Evenings: Meal seating 5:30 to 6:30 pm. Performance 8:00 pm
at www.rosebudtheatre.com
1-800-267-7553
Upcoming EVENTS
New! See Rosebud Church page for current bulletin and info
On the Studio Stage
##The mentorship level I students are presenting 'Little Women', based on the novel by Louisa May Alcott. Featuring the women of MP1, as well as other talented students and actors from around town, this heartwarming musical is a Christmas delight that you won't want to miss! 

There is a Preview on November 26th and the show runs from November 27th to December 19th on Thursdays, Fridays and Saturdays on the BMO studio stage in Rosebud, Alberta. All shows are at 4:30 PM. Tickets can be bought through Rosebud Theatre at http://rosebudtheatre.com/ or at 1-800-267-7553.
Next Opera House Production
Spring Opera House Show

By John Patrick Shanley
April 1 to June 11, 2016
Adult Tickets $77.70
It's never too late for love
Anthony has spent his entire single life on a farm in rural Ireland. Rosemary lives right next door, determined to have him, watching the years slip away. With a land feud simmering between their families, Rosemary has every reason to fear romantic catastrophe. Will these two life-battered souls fumble their way towards some kind of happiness? A compassionate, wistfully funny story about how it's never too late to take a chance on love. From the award-winning writer of Doubt andMoonstruck.
Twisted Tales: Sleeping Beauty
Theatre for Young Audiences 
 By Adam Furfaro & Steve Thomas
March 5, 2016
March 2-4, 2016 (School Performances)
Tickets $17.75
You've never heard this version of Sleeping Beauty!
The Master Book of Tales has been damaged! Characters have gone missing and the tales are all mixed up. If something isn't done, all the stories in all the books all over the world will be changed. Can young apprentice Malcolm repair it before all the stories are ruined forever?
In this episode, Malcolm must repair the story of Sleeping Beauty which now contains the likes of the Tortoise running a race, a singing prince who has been turned into a frog, and an unlikely fairy godmother. 
Suitable for ages 3 to 83  
Family-friendly buffet available for an additional $10.00 
For more information, contact Melanie at 1-800-267-7553 ormelaniew@rosebudtheatre.com.

Rosebud´s Maverick Rancher: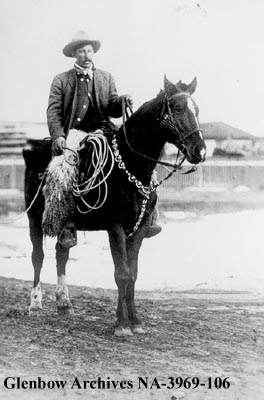 "Wild Horse Jack" Morton
(Local rancher and Stampede
chuckwagon legend)
Many is the story that could be told of this tall generous prankster.
In the News
Breaking News
The Harvest
A new matching campaign for Rosebud Centre of the Arts. Every dollar gifted to RSA/RCA in 2015 will be matched by our generous benefactors, Dick and Lois Haskayne. That means that your donation will doubly bless the work being done by our organization. See www.rosebudtheatre.com for more info.Press Release
Posted August 18, 2014
Calgary Philanthropists Donate to Rosebud
Lois (Kenney) Haskayne and Dick Haskayne Donate $1 Million to Rural Alberta Performing Arts Centre
At the Akokiniskway Art Gallery
Community INFO
Rosebud Memorial Hall has an upgraded web page with pictures to se all the services offered.
http://www.rosebud.ca/hall.htm
Jay Russel has a new website for his vintage bicycles http://rosebudvintagebicycles.weebly.com/
ROSEBUD RIVER DEVELOPMENTS
Do you want to buy or build a home or small business in the hamlet of Rosebud? Ask about single family-multi family, condominium and cooperative housing. Contact LaVerne Erickson at lavision@rosebud.ca or Jason Knibb at jknibb@telus.net
Do you have old glasses/hearing aids of any sort? Lions Recycle for Sight box is in
Rosebud Museum - drop off pre-show.
Rosebud Church - bulletins now posted weekly.
Sunday Schedule
Christian Education Classes for all ages 10:00 am
Worship Service: 11:00 am. Phone 403-677-2244
Tues: Women's Study & Prayer 9:30 am
Wed: Men's Gathering RCA Office 7:30 am
Congregational Prayer - church Wed. 7:00 pm